Gary Hunt's Art of Drumming.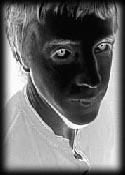 Gary, a Western Washington native, has been beating things with sticks for most of his life. It all started after being amazed by the drumming of Neil Peart and Bill Ward. Soon after, Gary became very interested in exploring the art of drumming. Not wanting to pass up the opportunity to follow this newborn interest, he picked up some sticks and started on his journey. Gary met a drummer through his work that agreed to give him lessons for $10 per session. He learned drum rudiments and techniques. After grasping the important concepts of the drum set, his drum teacher cut him loose to develop his own style. So he traded in lessons to play in bands.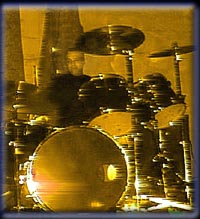 After playing in a few bands, Gary's unique style continued to evolve. His influence started to diversify with bands like The Church and Mission UK. Also, early 90's experimental Seattle band, Bam Bam, and drummer Mike Peterson, became a strong influence of Gary's. Gary, seeing Mike as the best drummer in Seattle back then, knew he could learn a few things from Mike. And so he did.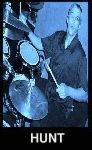 Soon after, Gary met Randal Prater and they formed Creeping Myrtle. Gary is currently the "root note" of Creeping Myrtle. His album credits with Myrtle include 1997's EP "Corduroy" as well as 1999's full-length CD "Ode to the Urchin" on Doldrum Records. Currently, the band is recording their second full-length album, "Devils in the Details" at Concours Sound in Lakewood , WA. On the album, Gary is experimenting with variety of musical styles and the use of congas, shakers, garbage can lids, pizza pans and other various noisemakers. Look for the album to be released sometime this summer.
Drumming to Gary has become more of a spiritual thing than an avenue to fame and fortune. He approaches a song and plays to make the song work well instead of using a song as an opportunity to showcase his talent. His influences are Bill Ward, Neil Peart, Rob Ellis (PJ Harvey), Mike Peterson (Bam Bam), among others. Out of these, he feels his playing style is most like Bill Ward's. Gary's drumming can be heard either here or at www.doldrum.com, or www.mp3.com/myrtle . You can contact Gary at gary@doldrum.com.
*Get a Real Player

Archived Features